AB de Villiers is unarguably the most innovative and greatest stroke player in the game of cricket. Just yesterday, De Villiers scored another century when he made 133 runs of just 59 balls and build a record unbeaten partnership with Virat Kohli, the Royal Challengers Bangalore captain.
Kohli and De Villiers went bezerk on Mumbai Indians bowling attack and scored 215 runs off just 101 balls for the second wicket during an Indian Premier League match at the Wankhede Stadium in Mumbai on Sunday.  You can check match details and the Scorecard here.
While their usual destroyer Chris Gayle got out early in the innings, Mumbai thought they were lucky and had missed the "Gayle Storm" when he got out at just 13 runs. However, what they didn't know was that the next batsman to walk in was AB de Villiers who single handedly destroys sides with his innovative and creative batting.
When De Villiers joined in, he was a little tight and had 5 consecutive dot balls, only to set in and create mayhem for Mumbai Indians when he started hitting boundaries and sixers at the end of the day. He had 19 fours and 4 sixes at the end of his innings of 133 runs in just 59 balls.
Royal Challengers Bangalore as a team reached a score of 235, which was the highest score by any team this season and De Villiers had scored his his century in just 47 balls. They went on to beat Mumbai Indians by 39 runs and stay in the IPL tournament, hoping to make the playoffs.
While Kohli was no mug with the bat either, he smashed an unbeaten 82 off 50 just balls but with De Villiers leading the pack, he was playing a supporting role and happy to do so.
Their partnership stand beat out the previous highest partnership for second wicket between Adam Gilchrist (106) and Shaun Marsh (79) for Kings XI Punjab against RCB in the IPL in 2011 where they had scored a massive 206 runs together.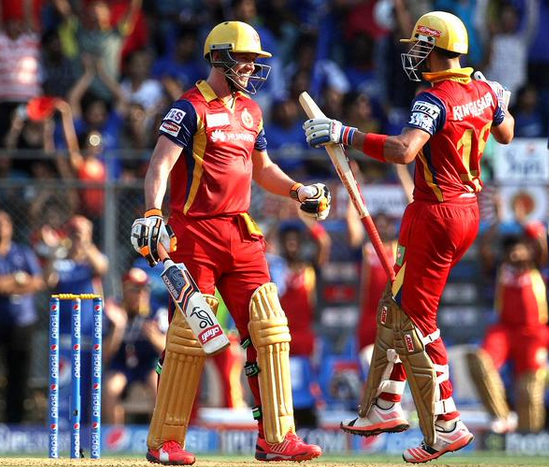 AB De Villiers has been on a roll like no other cricketer in the near past. He now has the fastest 50, fastest 100 and fastest 150 runs in the world and possesses skills and leadership that any team in the world would die for.
Here's a recent video of his skills, where he scored 100 runs in just 31 balls making it the fastest century in the world.
Watch this and any doubts you have will be removed in the class and talent this man is. Many would argue, he is the new god of cricket.
https://www.youtube.com/watch?v=mfZV1Ur8GWo